Having trouble viewing this email? View it in a web browser.
Business Aviation Traffic Growth Continues Positive Trend in June

Brussels, 6 July 2017 – Traffic figures for European business aviation in June were up by 5.3% compared to a year earlier, continuing a positive trend that began in late 2016.

"Business aviation movements in Europe once again showed a healthy year-on-year increase this past month, marking eight consecutive months of sustained growth," says Brandon Mitchener, EBAA CEO, citing data provided by Eurocontrol. "What is more, with +6.2% year-on-year growth for the January-June 2017 period, this is the strongest showing for this period in a decade."

The Eurocontrol traffic figures cover departures, arrivals, internals and overflights (DAIO) in the Single European Sky area.

See the June 2017 Business Aviation Traffic Tracker Europe.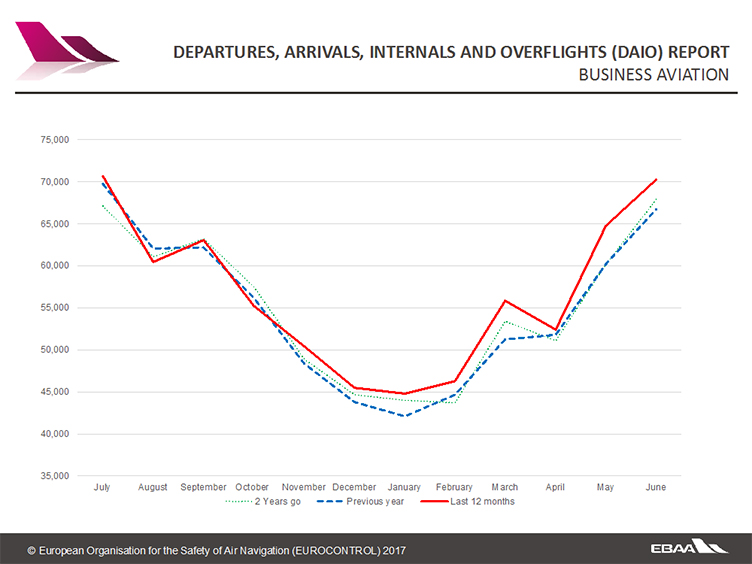 Keir Bonine
Communications & PR
communications1@ebaa.org
T +32 2 318 2805
M +32 478 40 60 07
About EBAA:
The European Business Aviation Association (EBAA) was founded in 1977 to defend the interests of business aviation. Today, more than 800 business aviation companies (direct members or members of associate organisations) rely on the EBAA to protect their business interests. It is the only voice to represent business aviation among the European institutions. For more information, visit www.ebaa.org.

DISCLAIMER:
This e-mail and any attachment(s) sent with it are intended exclusively for the addressee(s), and may not be used by, opened by, passed on to, or made available for use to, any person other than the addressee(s). EBAA rules out any and all liabilities resulting from any electronic transmission.
European Business Aviation Association - (EBAA)
Avenue de Tervuren 13a / Box 5
BE- 1040 Brussels
BELGIUM
www.ebaa.org || info@ebaa.org
If you want to unsubscribe, click here.